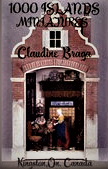 1000 Islands Miniatures
1000 Islands Miniatures is a small home-based dollhouse miniatures business. Selling primarily furniture and accessories including: furniture for every room in house as well as patio furniture, flower pots and urns, and a gorgeous selection of flowers, fireplaces, musical instruments, candles/lamps, framed wall art, dishes, art, toys, linens, and more.
Due to shop location, customers are welcome by appointment only.
Electronic gift cards make great gifts. All you need to do is follow the steps above and the gift card is instantly redeemable at 1000 Islands Miniatures. You can also personalize the card by adding text and choosing your favourite design! Our delivery services are great too; you can print, email, send by text message or send by Facebook!