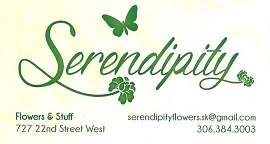 Serendipity Flowers and Stuff
Welcome to the Serendipity Flowers and Stuff product page. Known for unique floral designs made with heart and hands, Serendipity Flowers and Stuff offers designs for any occasion, delivered Monday to Saturday 9-6. Your safe and secure online order will be filled with flair, funk, or elegance using fresh flowers sourced consciously from the finest suppliers. Locally grown flowers available seasonally. Enjoy browsing our site, and stop by for a cup of tea at our downtown Saskatoon shop to see even more products and to meet our amazing designers.
Electronic gift cards make great gifts. All you need to do is follow the steps above and the gift card is instantly redeemable at Serendipity Flowers and Stuff. You can also personalize the card by adding text and choosing your favourite design! Our delivery services are great too; you can print, email, send by text message or send by Facebook!