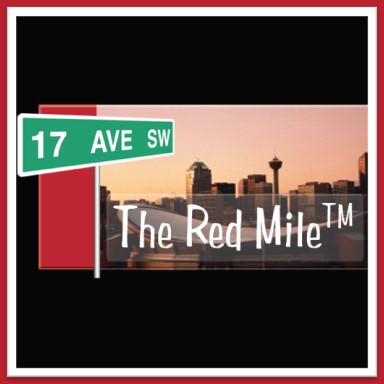 The Red Mile
You've heard about it on TV, you've read about it in the papers, and you've seen it on the internet. NOW, come and visit it!
We are THE destination in Calgary for local and international visitors to come to for their shopping and entertainment needs. In June 2004 alone, our website received almost 9 million hits making it an instant success story as far away as Tampa Bay! Over the last 16 years, we have accumulated over 35 million hits from all around the globe. When our beloved Calgary Flames are doing well, we average 100,000-200,000 hits per month as people search for what's new on the actual Red Mile.

The Red Mile will further be promoted during high traffic events like the Stampede parade, at the fair grounds, at trade shows and conventions, by tourism bureaus and travel agents, in taxi cabs, in movie theatres, and at numerous other venues, all year long, as the ultimate travel destination in Calgary. For more information, please contact us today.

Electronic gift cards make great gifts. All you need to do is follow the steps above and the gift card is instantly redeemable at The Red Mile. You can also personalize the card by adding text and choosing your favourite design! Our delivery services are great too; you can print, email, send by text message or send by Facebook!